I recently slip covered a couch for a client.  I went to her house and made the main cover there.  I stitched the cushion covers in my home a few days later and mailed them to her.  I also brought a small ottoman and 2 throw pillows home with me from her house.  I now have them all slip covered and will hopefully be delivering them to her and photographing the set-up this weekend.  I also slip covered this chair for her a couple of months ago.  I used the same ribbon that I used on the chair to dress up her throw pillows for her 'new' couch.
We talked about doing the 3 stripes of ribbon on each pillow like I did on the slip covered chair.  Then I mentioned a Union Jack design and she liked that idea.  I am so glad because I am loving how these pillows turned out.  The red and cream ribbon is French Style Organic Cotton ribbon from the etsy shop The Tin Tiara .  The jute ribbon trim is from the same shop.  She also carries other colors of the French Style Organic Cotton ribbon.  It is one of my very favorite ribbons!
I'm having a hard time convincing myself I'm really going to take them to her!!
I think they look pretty fabulous in this basket in MY living room 🙂
Still using my ribbon tags on my handmade items.  It is on my to-do list to get something different though!
Do you like the Union Jack design?  Do you own anything with this design or have you created anything with the Union Jack design?  I would love to hear about it!
Sew a Fine Seam
Linking up!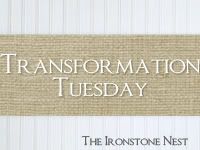 Please follow and like us: